(760) 741-4061
Day or night for
24/7 access
Our office hours are:
7:30 AM to 4:30 PM
Monday through Friday

I grew up in a small town, although the weather wasn't quite as temperate as San Diego. North Dakota has a reputation for severe winters, and while we could play basketball indoors then, outdoor time was spent on cross-country skis, something I still very much enjoy. Yes, once the Navy sent me here, I decided this was where I wanted to hang my dental mask. You just can't beat San Diego County for its bike trails, soccer fields, golf courses, tennis courts - a perfect place for my wife and I to raise our active daughter.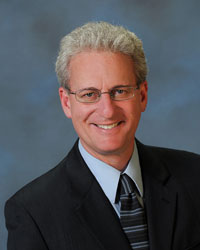 I went to a small liberal arts college: Concordia College in Moorhead, Minnesota, followed by dental school at the University of Minnesota, and then into the U. S. Navy. I met my wife, a Southern Belle transplant from Atlanta, here in San Diego, and we decided early on to return here at the first opportunity. After the Navy, we moved back to Minneapolis to take my graduate training in Periodontics at the University of Minnesota. Then it was time to choose where our daughter would be born, and where we were going to set up specialty practice.
Since we definitely wanted to return to the San Diego area, my wife and I spent long hours looking at opportunities here. The first thing that impressed me about this practice was that it was organized - and everyone tried very hard to keep communication going between and among the referring dentists, the patients and staff members. The second thing I noticed was that the people wanted to work here - and stay working here. (Just as a side note, we recently celebrated our second twenty-year employee.) The third thing I noticed was that everyone - and I mean everyone - was committed to making sure our patients get the best possible care. That was over eighteen years ago, and each day, we have a morning meeting in which we try very hard to make sure those three commitments are renewed.
Being involved in this practice has given me the opportunity to give back to the community through dentistry. As a volunteer member of the UCSD Medical School Faculty, I donate time in the Free Clinic, where I can help by using my skills to treat low-income families. The best part of volunteer work for this and other charitable organizations? Helping the kids, hands down.
Another huge plus is the emphasis on Continuing Education in our practice. Not only are we Continuing Education providers, licensed to both bring in experts to give educational courses, but to also work with other dentists in the community and train them and their office staffs in our areas of expertise, such as periodontal plastic surgery and topics involving dental implants.
My wife and I both enjoy sports, both watching and participating. And the youth sports teams here are the best - which we know from our daughter's involvement over the past years. We have never questioned our decision to come here, nor to stay here. And I look forward to meeting you and introducing you to the team of people that make my commitment to you and your dental health possible.
We are committed to excellence in periodontics and dental implants. I hope to meet you soon.